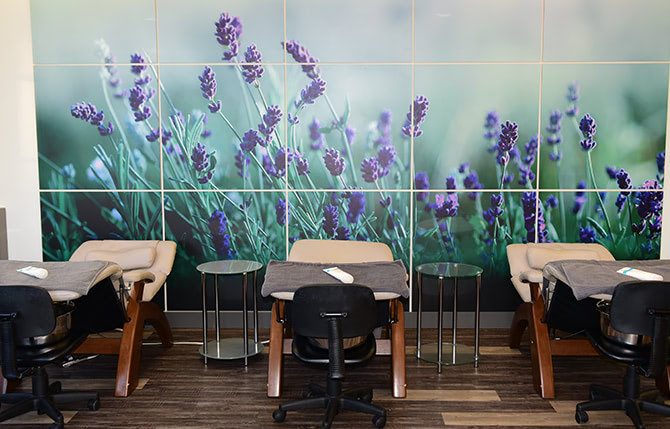 Expand your world of colour with natural accents for luminous skin. Our trained Aveda Make-up Artists and Spa Therapists will apply earth-inspired shades infused with therapeutic plant-derived ingredients, customized just for you.
Makeup Application

$55 - $67

(60 minutes)

Makeup Lesson and Application

$71 - $84

(60 minutes)

Bridal Makeup Application

$66 - $79

(60 minutes)
Full Set Classic Lash Extensions

$164-$184

Classic lash extensions is when one extension is applied to each natural lash. This results in a realistic appearance, with a darker and enhanced lash line. Beautiful yet natural. (2 hours)

Classic Lash Fill

$58-$68

(60 minutes)

Full Set Volume Lash Extensions

$247-$267

Semi-permanent synthetic eyelash extensions are individual extensions made to look like natural lashes - thicker at the base with a natural curl. Fills are recommended every 2-3 weeks. (4 hours)

Volume Lash Fill

$99-$109

(2 hours)

A lash lift is a semi-permanent lift and curl of your natural lashes. Our lash technicians set the shape of your natural lashes by bending them over a curved silicone shield and applying a solution. This is a great alternative to lash extensions without the maintenance. This service lasts up to 6 weeks. (60 minutes)
Brow Lamination & Tint

$77 - $90

Brow lamination is a semi-permanent treatment and alternative to microblading that provides fuller, thicker and more tame eyebrows. Results last anywhere from 4-6 weeks. (45 minutes)
Aviva Organic Spray Tan

$54 - $60

Dartmouth Location Only. The Aviva Organic Spray Tan is an oil-free and hypoallergenic product. It offers a natural and long lasting tan by using a premium grade DHA that is not tested on animals and is vegan. Your tan will be fast drying and fade evenly, and we colour match to each individual guest. (20 minutes)
NOT SURE WHERE TO START?
Our guest services team can help answer your questions!
Online booking offers the convenience of reserving an appointment from the comfort of your home.
If you have difficulty booking, please contact your preferred location.